Carpet Comparison - How to Compare Carpet
By Alan Fletcher - 30-year Carpet Expert & Trusted Consumer Advocate
What Makes One Carpet Better Than Another?
Carpet quality is determined by several factors including: The type and quality of materials used; The amount of fiber face-weight; and how well it is constructed. Here is some important information you need to know before you make your final carpet selection.
Let me explain a little about Carpet Specifications and where you can locate or obtain all this critical information as you are shopping for new carpet for your home. This is the first page of many you should read on my free website before you make your final selection. You also have the ability to email me your carpet questions, totally free of charge. I am happy to answer your carpet questions. Email me at Alan@abccarpets.com
The Carpet "Specification" Label
On the back of every carpet sample there should be a label that shows the name of the manufacturer, the Type of Fiber used to make the carpet pile, the warranty information and the carpet style and color. The label might reveal which anti-stain or anti-static treatments have been applied. It may also include the Pile Density Rating, Pile height and the Tuft Twist Count, but in most cases these specifications are NOT listed on the carpet label.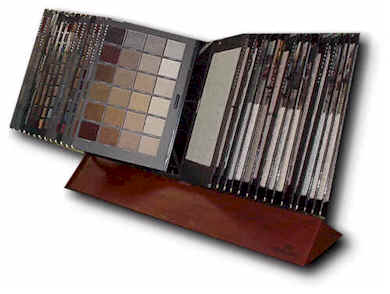 These carpet "specs" is the critical information you MUST have to help you determine how durable the carpet is and whether or not it would be a good choice for your needs, goals and lifestyle.
Sadly, many carpet manufacturers either don't provide complete information on the labels or retailers may remove or refuse to provide the information that consumers need to make wise and informed choices.
Carpet Manufacturers want to make it difficult for you to comparison shop.
Why? Most carpet stores carry the exact same carpet brands, styles and colors as other nearby carpet stores. Some carpet retailers may not be willing to provide you with the carpet specifications to make it harder for you to comparison shop. They don't want you to shop for a lower price on the exact same carpet down the street. In their mind, it's not fair for their commissioned salesperson to spend hours helping a customer find the perfect carpet... then for that customer to buy the exact same carpet down the street because it was a few dollars cheaper.
While I do understand their frustration with dealing with customers who shop around for the best deals, I believe all consumers deserve to have full and complete access to the carpet specifications.
If your carpet retailer is not willing to provide you with the carpet specs, then you might consider shopping somewhere else. Bear in mind that the salesperson will often have to call the carpet maker to gain access to the "spec sheet" and it could take a day or two to gather all the information for you. Be patient!
How To Shop For Carpet?
You should take your time shopping for carpet and gradually narrow down your selection to just a few carpet types that you really like, that may be suitable for your needs and that are within your price range. Then before you make your final choice, ask the salesperson to provide you with a spec sheet for each of those carpets you are considering.
What is the PAR Rating System?
Many carpet manufacturers have a durability scale they use to inform consumers. It is usually based on a number from one to five, with five being the most durable. I don't like their rating systems because I think it is not an accurate true-to-life calculation. I suggest you take my free carpet foot traffic test to see what grade of carpet you might need for your home.
The Tuft Twist Rating

What is a Tuft?
Carpet Fibers, strands or "filaments" are grouped together to form tufts and twisted while heat is applied to "set" the fibers permanently, hence the term "heat set". The tighter the filaments are twisted the more durable the carpet will be.

This Tuft has 7 twists and is a sign of a well-made carpet.

This Tuft has 4 twists and is not as durable and is a sign of a lower grade of carpet
The Number of Tuft Twists is an important key to making sure your carpet retains its like new appearance longer. Frieze Styles tend to have a higher tuft twist (over 6) and is why they are well-known for their durability and retaining a like-new appearance longer than most other carpet styles.
The Tuft Twist Rating is based on the number of twists per "lineal inch" of tuft.

The Tuft Twist numbers usually range from 3.0 to 7.5
What makes a Carpet look or appear worn out?
Carpets with a low Tuft Twist Rating (3 to 5) tend to untwist or "blossom" at the yarn tips more quickly thus creating a worn out, frayed or matted down appearance...

Here is what a Frayed or Blossomed Carpet Tuft looks like.
For this reason a Carpet with a higher Tuft Twist Rating will retain its like-new appearance longer and tolerate a higher level of foot traffic. When comparing carpets side by side, you must consider the Tuft Twist Rating to help determine which carpet may be more durable. Carpets with a lower Tuft Twist tend to "blossom" more quickly and as a result will become matted down faster or look worn out sooner.
Study my simple Tuft Twist Chart Below to better understand how carpet quality is determined in part by the number of twists each tuft has. Most Nylon Frieze styles typically have a higher tuft twist rating of at least 6 or more. That's one reason why Nylon Frieze styles tend to wear better, be more durable and last longer than many other carpet styles.

Carpet comparison, how to compare carpet, Smartstrand carpet, Stainmaster carpet, polyester carpet, nylon carpet, polyester nylon carpet
Learn more about Carpet Specifications - Carpet Specifications Explained